Women of Prince George's
2018-19 EVENTS CALENDER
 
WPG Educational Module Series


Join Us
For our 3rd and Last Module Workshop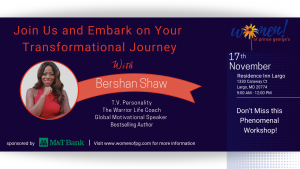 Residence Inn Largo
1330 Caraway Ct.
Largo, MD 20774
11/17 9:00 am – 12:00 pm
Transformation coach, Global Motivational Speaker, and Author
Founder URAWARRIOR.com and two-time breast cancer survivor
"I will help you manifest your dreams and tap into your warrior spirit, think it, create it, write it, speak it, Do it!"
*Please note: On occasion, we may post photos of our events on Social Media If you have questions or concerns on our use, please contact us at info@womenofpg.com

We're also looking for help to make these events even better and would greatly appreciate your support. Learn more about how your organization can be involved.
For Corporate sponsorship
Contact us at:
 info@womenofpg.com
---
 Last Year's Events

All of US!


May 24, 2018
8:30 – 3:00 PM
8th Annual
Women of Prince George's Conference
Greenbelt Marriott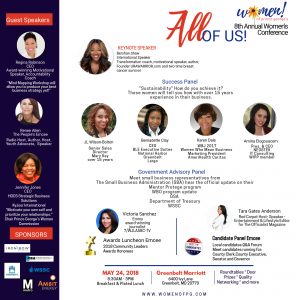 ---
Pamper Session with Women of Prince George's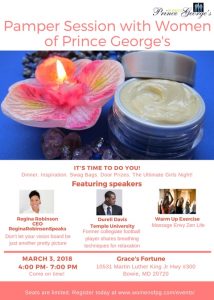 Jump Start Your Business


Monthly Educational Module Series from September to December.

---
7th Annual Women of Prince George's Women's Conference
May 18, 2017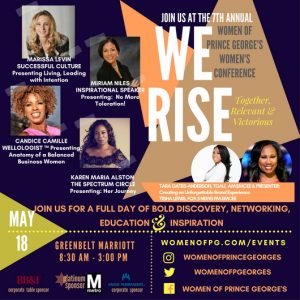 In order to make next year's conference even more successful, we request that you fill out this post-event survey.   We thank you in advance for your comments and suggestions and we assure you that each will be given consideration so that future conferences and events will be even more of a success.
Highlights of the Day

 
---
Past Events
January 27, 2017
Jump Start your Business
 
---
December 1, 2016
Annual Community Awards and Holiday Breakfast 
"Honoring those who have exceeded expectations"Greenbelt Marriott
8:30am-11:00am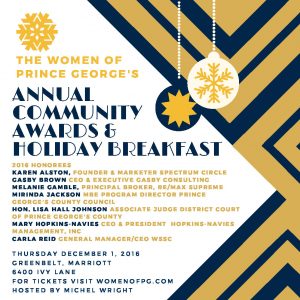 ---
October 20, 2016
Direct Networking and Education Event: Engaging Established Businesses
Regus Office Suites National Harbor
9:00am-11:00am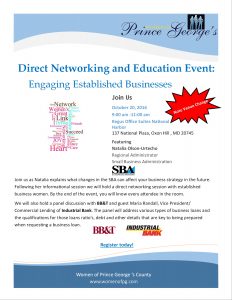 ---
June 23, 2016
5:00pm-7:00pm
End of Season Mixer
Succotash
186 Waterfront Street
National Harbor, Maryland  20745
---
May 19th, 2016
SAVE THE DATE
INSPIRATION-EDUCATION-STRATEGY
Attend the 6th Annual Women's Conference 2016
May 19th Full day Women's Conference 9:00am-3:00pm
---
February 18, 2016
February Ladies Lunch

---
October 16, 2015
LET'S DEVELOP YOUR STRATEGY…


Belinda Coleman
President Founder of the Coleman Group Inc.
She developed a strategic direction for her company that has resulted in
"Double Digit" growth for each of the last six years.
HEAR HOW SHE DID IT!
KEEPING LIFE MOVING!



Darlene Brown
Inspirational Speaker & Life Coach Professional Development Facilitator
she will share navigating the next step After you achieve your SUCCESS
"CREATE AND SUSTAIN YOUR MOMENTUM"
Workshops, Refreshments and Prizes
Public House Restaurant National Harbor
10am-2pm
---
November 14, 2015
Hear results driven marketing techniques that you can implement today!


Meet Sherron, Washington author and owner of
P3 Solutions a marketing and communications company
Her firm specializes in developing inventive promotion solutions for entrepreneurs, small businesses and associations.
Attend this workshop and walk away with useful marketing techniques
Refreshment served
Prince George's Community College
10am-2pm
---
January 14, 2016
JUMP START YOUR BUSINESS
Conference Center at Vista Gardens Shopping Center, Bowie, Maryland
Second floor between AT&T and Chipotle
Start the year off informed!
Hear from the experts on how to market your business to Federal and County Government; Hear an update from the SBA on the WBO designation
Also hear from successful women business owners as well as prime contractors
and what they require to do business with you!
8:30am-12 noon
---
Registration for all events are FINAL
If you have any questions please forward to Steph@kb-assoc.com
Thank You