Jul
25
Sat
Power of the Pause

@ Online
Jul 25 @ 11:00 am – 12:00 pm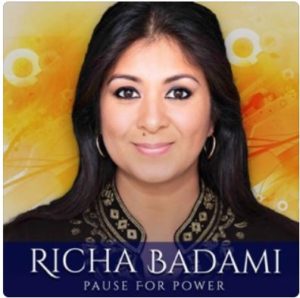 Richa Badami
Spiritual teacher, Author and Speaker, Richa Badami, shares inspiration, meditations, and insights for a life of love and forgiveness.
What Does It Mean To Pause For Power?
The pause is just that – stopping and taking time to just pause and be in the moment.
We draw on our energy and inner power so we can perform and function in our life. If we don't slow down, we build stress. Pausing allows you to leverage your power and regenerate.
The benefits are:
Recharging your energy
Gaining access to your in wisdom
Feeling connected to the life around you, nurtured, and cared for.
Richa speaks on how to pause for balance, clarity, and inner power.
Aug
29
Sat
Look Good and Feel Good, Local Getaways to uplift you! August 29, 2020

@ Online
Aug 29 @ 11:00 am – 12:00 pm