Mar
4
Sat
2023
Valentine Mix and Mingle

@ The Real Milk & Honey Eatery & Bar
Mar 4 @ 6:00 pm – 8:00 pm
Valentine Mix and Mingle with Tara & Bashea WilliamsThis event is for the 40-plus crowd. Bring your best mingling conversation. Reception, music, and presenter playground games we play as adults, icebreaker.
Mar
25
Sat
2023
Life's Journey

@ Wellsprings Manor & Spa
Mar 25 @ 9:00 am – 3:00 pm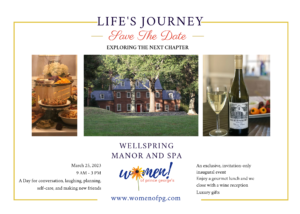 By Invite Only
May
24
Wed
2023
WPG Women's Conference

@ Newton White Mansion
May 24 @ 9:00 am – 2:00 pm
This is our signature event and you're invited! It will be held at One of the most beautiful venues in Prince George's County, Newton White Mansion located in an exquisitely picturesque setting in Mitchellville, Maryland.
You'll have the chance to engage with fellow connectors, hear from a variety of women leaders, and gain inspiration and motivation!
This is also an opportunity to recognize and celebrate our local community leaders for their achievements and dedication.
We will have a variety of vendors from the surrounding area showcasing their products and services.
You can be sure the day will be informative, uplifting, and inspirational.
More details to Come