Women of Prince George's Events
We are here to help you build a firm foundation with our educational, health, and financial workshops designed to challenge, educate, and support your journey. Expect to network with empowered woman prepared to lead and mentor her sisters in business and life. Stay updated on our upcoming programs and workshops below!
As we Pivot during this time we want to stay connected to our audience and keep them informed and provide the tools needed to leap forward.  Additionally, we will adhere to the health guidelines of the state therefore we have rescheduled our Women's Conference.
Calendar of Events
2020 -2021
Please note: All event sales are final
May
21
Fri
11th Annual Women's Conference and Community Leaders Awards

@ Online
May 21 @ 9:00 am – 2:00 pm
11th Annual WPG Women's Conference "This is our Time"
This is a Virtual Event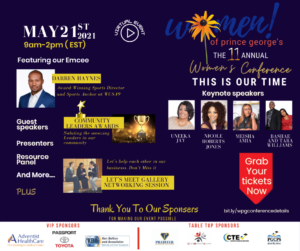 Our 11th Anniversary of Women of Prince George's Women's Conference. Our theme this year is "This Is Our Time". The time is NOW to get tips to navigate the glass ceiling. This is a virtual event and your choice is to pay for either the virtual event alone or the Virtual event with boxed food and a conference bag. There will be a local pick-up location sent to you 2 wks before the conference. The actual pick-up will be at a local location the day before the conference. Virtual Event only $45 Virtual Event with boxed food and conference bag swag $55
August 29 Webinar Replay
Look Good and Feel Good, Local Getaways to uplift you!
July 23 Webinar Replay
Power of the Pause - Create the Life You Love
June 20 Webinar Replay
Multiple Streams of Income: IT IS MANDATORY NOW! 
May 23 Webinar Replay
How do you Pivot your business and yourself for success during COVID-19?
Please note: All sales are final for events, exhibitors, or sponsorship, exchanges can be offered when available.  Event photos may be used for future promotions.